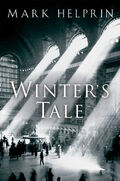 Winter's Tale is a 1983 romantic fantasy novel by Mark Helprin. the novel has been adapted as a movie which is due to be released in 2013.
Set in the 19th century and modern Manhattan, winter's Tale goes back and forth to tell the story of the love that blossoms between a middle-aged thief and a young wealthy girl who is dying.
External links
This article is a stub. You can help the Literawiki by expanding it.
Ad blocker interference detected!
Wikia is a free-to-use site that makes money from advertising. We have a modified experience for viewers using ad blockers

Wikia is not accessible if you've made further modifications. Remove the custom ad blocker rule(s) and the page will load as expected.