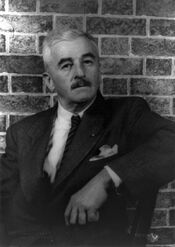 William Faulkner was an American author who was born in Mississippi in 1897 and died in 1962. He won the Nobel Prize for Literature in 1949.
Quote


Always dream and shoot higher than you know you can do. Don't bother just to be better than your contemporaries or predecessors. Try to be better than yourself.
-- William Faulkner[1]
Bibliography
References
External links
This article is a stub. You can help the Literawiki by expanding it.
Ad blocker interference detected!
Wikia is a free-to-use site that makes money from advertising. We have a modified experience for viewers using ad blockers

Wikia is not accessible if you've made further modifications. Remove the custom ad blocker rule(s) and the page will load as expected.