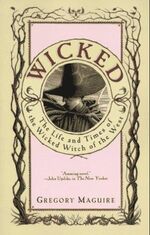 Gregory Maguire adds new dimensions to the children's stories of Oz with the 1995 novel Wicked: The Life and Times of the Wicked Witch of the West (ISBN 0-06-039144-8). This book re-tells the classic, but from a different point of view.
This version is not recommended for children.
This book raises questions about what is wicked and what is good? What happens when a child is born different, green?
Major sections of the book are the prologue, Munchkinlanders, Gillikin, City of Emeralds, In the Vinkus and The Murder and Its Afterlife.
The novel was adapted as the successful Broadway musical Wicked.
See also
External links
This article is a stub. You can help the Literawiki by expanding it.
Ad blocker interference detected!
Wikia is a free-to-use site that makes money from advertising. We have a modified experience for viewers using ad blockers

Wikia is not accessible if you've made further modifications. Remove the custom ad blocker rule(s) and the page will load as expected.