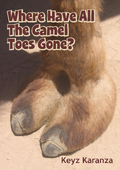 Where Have All The Camel Toes Gone? (ISBN 978-0-557-17416-4) is a 2010 free-style comedy book by Keyz Karanza. It is based in part on his popular "Awful Snacks" as heard on the podcast The Awful Show.
The book is a blend of hate-filled ranting and disjointed whimsy. It is not recommended for readers under 18 and it contains material that many readers may find offensive.
External links
Ad blocker interference detected!
Wikia is a free-to-use site that makes money from advertising. We have a modified experience for viewers using ad blockers

Wikia is not accessible if you've made further modifications. Remove the custom ad blocker rule(s) and the page will load as expected.