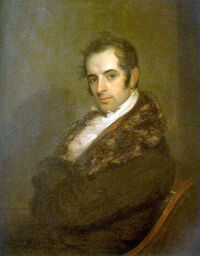 Washington Irving (April 3, 1783 - November 28, 1859) was an influential 19th century American writer. He is best known today for his short stories, "The Legend of Sleepy Hollow" and "Rip Van Winkle" Irving also wrote biographies of literary, political and religious figures in addition to what may be considered today to be travel writing and historical fiction.
Some of Irving's works were originally published under the pseudonyms John Oldstyle, Geoffrey Crayon or Diedrich Knickerbocker.
External links
This article is a stub. You can help the Literawiki by expanding it.
Ad blocker interference detected!
Wikia is a free-to-use site that makes money from advertising. We have a modified experience for viewers using ad blockers

Wikia is not accessible if you've made further modifications. Remove the custom ad blocker rule(s) and the page will load as expected.