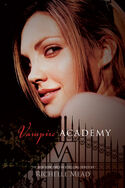 Vampire Academy is a fantasy novel by Richelle Mead. It is the first novel in the Vampire Academy series.
Plot
Rose Hathaway is a guardian in training at St. Vladimir's Academy from where she ran away with her best friend and Moroi princess, Lissa Dragomir. After the two are found and brought back, Rose goes through rigorous training with a guardian named Dimitri while Lissa has to try and fight her way back to the top of the vampire social hierarchy. Bigger things are coming for these two girls, and they end up facing betrayal, new love, and bigger fights than what they had to go through while gone.
External links
Ad blocker interference detected!
Wikia is a free-to-use site that makes money from advertising. We have a modified experience for viewers using ad blockers

Wikia is not accessible if you've made further modifications. Remove the custom ad blocker rule(s) and the page will load as expected.