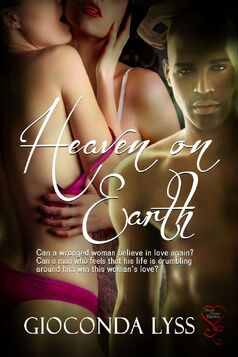 Gioconda Lyss recently published her first erotic romance novella titled Heaven on Earth.
Gwen McAllister and Desmond Blankenship have both had their share of disappointment in love and marriage. Gwen is a divorced woman who swears never to love again. Desmond is a businessman who finds his wife in bed with a friend. The two meet at a party in Phoenix and soon begin a long-distance relationship. While Desmond knows Gwen is the woman he wants to be with, Gwen is reluctant about facing her feelings for Desmond. Just when Desmond is ready to declare his true feelings for Gwen, Gwen's life take an unexpected turn. Leticia Martinez, Gwen's long- time friend and occasional lover, makes an unexpected visit. At first, Leticia and Desmond express an instant dislike for one another. Will Gwen have to choose between the two people she loves the most, or will they make the relationship work for all three of them?
Though Romance is not my genre of preferences, I must admit; Heaven on earth it's a silky erotic romance that kept my interest to the last page.
I strongly recommend this book.