A big thanks to all those who joined in the LIVE CHAT yesterday evening about The Hobbit. Everybody's passion for this beloved book and excitement for the upcoming movie made the discussion nothing short of exhilarating!
Some of the topics we covered included: who our favorite characters in the book are and why; the differences in tone and writing style between The Hobbit and The Lord of the Rings; Bilbo's incredible, heroic journey from both an external and an internal perspective; the themes that hit home for us; and last, but definitely not least, the things we were all most looking forward to seeing brought to life on the big screen!
Many of you wanted to make the first chat but were unable to- but don't worry, we are having a second chat THIS SUNDAY AT 5PM PST! Those from the first chat are of course welcome and encouraged to join round 2!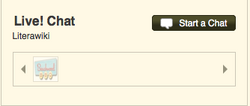 You can click on the picture to the left to join. The format will be the same- loose and fun! You must be a logged in user to participate; if you don't have an account, you can register quickly and easily HERE.
Be sure to follow us on Good Reads and Twitter! While you're at it, tweet @WikiReads with the title of the next novel you'd like us to Book Club.

Ad blocker interference detected!
Wikia is a free-to-use site that makes money from advertising. We have a modified experience for viewers using ad blockers

Wikia is not accessible if you've made further modifications. Remove the custom ad blocker rule(s) and the page will load as expected.