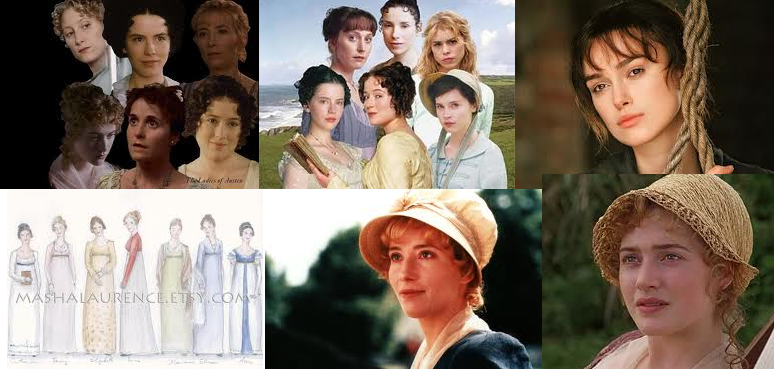 It's ought to be noticed that out of all the heroines in English Literature, Jane Austen's heroines have always been said to be the remarkable best. But one thing which is always clear is; there are best of best. So, now let us see which women have taken out to the honorary title of being Jane Austen's 'Top 5 best Heroines'.
5.  Marianne Dashwood (Sense and Sensibility): Although romantic, Marianne contains the greatest trait a woman must have in her alongside and that is; Sensibility. She even though foolish through her kindness and vivacity, she owns the fifth place in my list because she has a heart which makes one a remarkable good human being. Kate Winslet has done a remarkbale good job in playing one of Jane Austen's top 5 heroines.
4.  Fanny Price (Mansfield Park): A girl, whose age is not more than ten at the begining of the novel. Fanny Price firstly struggles in a huge family where there are eight other children of her parents beside her. Again, when she is sent to her aunt and uncle to be raised, where she wan't treated as she was supposed to. Again, 'The coarse of love never did run smooth'. She loved her cousin Edmund, who neither had bad disposition for her, but mistook some other girl as his soulmate. It is remarkably noticable that how Fanny faces the whole situation without breaking down.
3.  Emma Woodhouse (Emma): Jane Austen teases the readers with the idea, 'A heroine whom no one but myself will much like'. But Emma is irresistible. 'Handsome, clever and rich'. Emma is also an imaginist who senses romance all around her but never expects to get married. Emma Woodhouse may be concieted and somewhat spoilt through her indulgent father, she's always back on track by the hero who'll always top the list of my 'Top 5 Jane Austen Hero': George Knightley.
2. Elinor Daswood (Sense and Sensibility): The one with 'Sense' in the novel. The responsible sister and daughter, Elinor is the one whom can anyone trust blindly when it comes to any kind of hardship. Elinor is thoughtful and responsible, unlike any other women of her age who are considerably dreamy.
1. Elizabeth Bennet (Pride and Prejudice):  Without any doubt, Elizabeth will always be on the top of my list. Responsible, caring, pretty and intelligent (only barrier is her quick judgement), Elizabeth makes herself count through all her way to finding her love or looking after her elder sister. Elizabeth is regarded as the most admirable and endearing of Austen's heroines. She is considered one of the most beloved characters in British literature because of her complexity. Austen herself described Lizzy as "as delightful a creature as ever appeared in print."
Next: Top 5 Hero of Jane Austen...