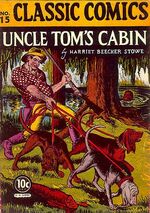 Uncle Tom's Cabin by Harriet Beecher Stowe was a very influential book in American history and the abolitionist movement. The story tells some of the horrors of life as a slave.
Uncle Tom's Cabin is mentioned in many other works of literature.
Ironically, while Uncle Tom is a strong, admirable character who endures many hardships, the term "Uncle Tom" has come to mean someone who defers too much to authority, especially the whites in power.
External links
This article is a stub. You can help the Literawiki by expanding it.
Ad blocker interference detected!
Wikia is a free-to-use site that makes money from advertising. We have a modified experience for viewers using ad blockers

Wikia is not accessible if you've made further modifications. Remove the custom ad blocker rule(s) and the page will load as expected.