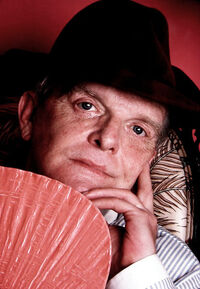 Truman Garcia Capote, whose birth name was Truman Streckfus Persons (September 30, 1924 - August 25, 1984) was an American actor and writer. His works include novels, novellas, short stories, plays, screenplays and works of non-fiction. His best known works are the 1958 novella Breakfast at Tiffany's and the 1966 nook In Cold Blood, an account of a quadruple murder in a the rural community of Holcomb, Kansas in 1959 and its aftermath that Capote classified as a "non-fiction novel".
Capote was childhood friends with Harper Lee, the author of To Kill a Mockingbird.
External links

This article is a stub. You can help the Literawiki by expanding it.
Ad blocker interference detected!
Wikia is a free-to-use site that makes money from advertising. We have a modified experience for viewers using ad blockers

Wikia is not accessible if you've made further modifications. Remove the custom ad blocker rule(s) and the page will load as expected.