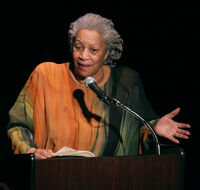 Toni Morrison (born Chloe Ardelia Wofford on February 18, 1930) is an American editor and author whose works include novels, plays, short stories, children's books, works of non-fiction and the libretto for the 2005 opera Margaret Garner. Morrison is both a Nobel Prize for Literature and a Pulitzer Prize winner. She is a Professor Emeritus at Princeton University.
Works
(partial list)
The Bluest Eye (1970)
Sula (1973)
Song of Solomon (1977)
Tar Baby (1981)
Beloved (1987)
Jazz (1992)
Paradise (1998)
External links
This article is a stub. You can help the Literawiki by expanding it.
Ad blocker interference detected!
Wikia is a free-to-use site that makes money from advertising. We have a modified experience for viewers using ad blockers

Wikia is not accessible if you've made further modifications. Remove the custom ad blocker rule(s) and the page will load as expected.