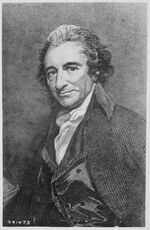 Thomas Paine (January 29, 1736 - June 8, 1809) was an American author revolutionary and founding father of the United States of America. He came to the Americas in 1774. One of his main contributions to the revolution was his writings which stated the position of the revolutionaries and motivated many. Probably his most famous publication was Common Sense first published in January 1776, soon after the beginning of the American Revolutionary War against England.
External links
This article is a stub. You can help the Literawiki by expanding it.
Ad blocker interference detected!
Wikia is a free-to-use site that makes money from advertising. We have a modified experience for viewers using ad blockers

Wikia is not accessible if you've made further modifications. Remove the custom ad blocker rule(s) and the page will load as expected.