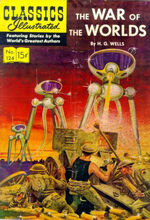 The War of the Worlds is a science fiction novel by the British author H.G. Wells. It was originally published in 1897 as a serial, appearing in Pearson's Magazine in the United kingdom and in Cosmopolitan magazine in the United States. It was first published in book form in 1898.
The novel is about the invasion of Earth by Martians.
There have been numerous adaptations of The War of the Worlds to other media. The most famous of those adaptations remains the 1937 radio play directed by and starring Orson Welles. it is reported that the first time the radio play was broadcast it caused mass panic when people believed they were hearing news of a genuine alien invasion.
See also
External links

This article is a stub. You can help the Literawiki by expanding it.
Ad blocker interference detected!
Wikia is a free-to-use site that makes money from advertising. We have a modified experience for viewers using ad blockers

Wikia is not accessible if you've made further modifications. Remove the custom ad blocker rule(s) and the page will load as expected.