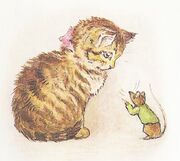 The Story of Miss Moppet is a picture book for very young children by the English author and illustrator Beatrix Potter. It was first published in November 1906 in panoramic format, with the pages folded and tied closed with a ribbon. It was one of the two stories published in the special format for the 1906 holiday season.[1] Due to complaints from shopkeepers who found the booklets difficult to stock, both Miss Moppet and its companion piece The Story of A Fierce Bad Rabbit were subsequently republished in small book format in 1916.
The Story of Miss Moppet is a little sketch, a vignette rather than a tale, about a kitten's attempt to catch a mouse. The model for Miss Moppet was a pretty and mischievous kitten Beatrix Potter borrowed from a mason at Hill Top, her country residence. She made many drawings of the kitten in the summer of 1906 and used them to illustrate not only Miss Moppet but also her next book The Tale of Tom Kitten (1907).
Miss Moppet and her brother Tom Kitten also appear in the 1908 book The Tale of Samuel Whiskers or The Roly-Poly Pudding.
Plot
A little kitten named Miss Moppet spots a mouse behind the cupboard. The mouse, unafraid of a kitten, peeps out and teases Miss Moppet. Miss Moppet jumps at the mouse and hits her head on the cupboard.
As the mouse watches from the top of the cupboard, Miss Moppet ties her head in a duster and sits in front of the fireplace. She looks so ill that the mouse decides to come down to check on her. Miss Moppet peeks through a hole in the duster and sees the mouse coming very close. She jumps suddenly and catches the mouse by his tail.
Miss Moppet decides to tease the mouse. She ties him up in the duster and tosses it like a ball. When she unties it afterward, however, she finds no mouse inside – he had escaped through the hole in the duster. The mouse is now dancing a jig on top of the cupboard.
Footnotes
↑ A third panoramic book The Sly Old Cat was drafted but never completed. The story was published for the first time in 1971 with Beatrix Potter's rough sketches.
External links
Ad blocker interference detected!
Wikia is a free-to-use site that makes money from advertising. We have a modified experience for viewers using ad blockers

Wikia is not accessible if you've made further modifications. Remove the custom ad blocker rule(s) and the page will load as expected.