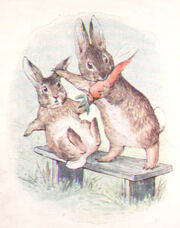 The Story of A Fierce Bad Rabbit is a picture book by the English author and illustrator Beatrix Potter. It was one of the two stories published in panoramic format for the 1906 Christmas holiday season.[1] The pages were printed on a long strip of paper then folded and tied closed with a ribbon. Shopkeepers found the booklets difficult to stock, so Potter abandoned the format and republished both A Fierce Bad Rabbit and its companion piece The Story of Miss Moppet in small book format in 1916.
Beatrix Potter wrote The Story of A Fierce Bad Rabbit for Louie Warne, the young daughter of her publisher Harold Warne, who wanted a tale about a naughty rabbit quite unlike the nice Peter Rabbit. The story, about a bad rabbit who steals a carrot from a nice rabbit, is meant for extremely young children and therefore written very simply.
Plot
A fierce bad rabbit sees a nice gentle rabbit eating a carrot. He takes the carrot and scratches the gentle rabbit. The gentle rabbit goes into a hole to hide.
A man with a gun comes by. He sees the bad rabbit and mistakes him for a bird. The man shoots at the bad rabbit. The bad rabbit runs away, leaving behind not only the carrot but also his tail and whiskers.
Footnotes
↑ A third panoramic book The Sly Old Cat was planned but never completed. The story was published for the first time in 1971 with Beatrix Potter's rough sketches.
External links
Ad blocker interference detected!
Wikia is a free-to-use site that makes money from advertising. We have a modified experience for viewers using ad blockers

Wikia is not accessible if you've made further modifications. Remove the custom ad blocker rule(s) and the page will load as expected.