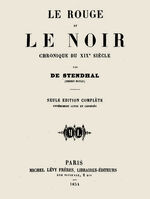 The Red and the Black (French: Le Rouge et le Noir; also published in English as The Scarlet and the Black and Scarlet and Black) is a historical fiction novel by the French author Stendhal. It was first published in 1830.
Handsome and ambitious, Julien Sorel is determined to rise above his humble peasant origins and make something of his life -- by adopting the code of hypocrisy by which his society operates. Julien ultimately commits a crime -- out of passion, principle, or insanity -- that will bring about his downfall. The Red and the Black is a lively, satirical picture of French Restoration society after Waterloo, riddled with corruption, greed, and ennui. The complex, sympathetic portrayal of Julien, the cold exploiter whose Machiavellian campaign is undercut by his own emotions, makes him Stendhal's most brilliant and human creation -- and one of the greatest characters in European literature.
External links
This article is a stub. You can help the Literawiki by expanding it.
Ad blocker interference detected!
Wikia is a free-to-use site that makes money from advertising. We have a modified experience for viewers using ad blockers

Wikia is not accessible if you've made further modifications. Remove the custom ad blocker rule(s) and the page will load as expected.