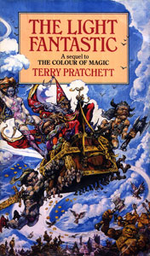 The Light Fantastic (ISBN 0-552-12848-1) is a comic fantasy novel by Terry Pratchett, the second of the Discworld series. It was published in 1986. It is the second novel in the Discworld series. The events of the novel are a direct continuation of those in the preceding book The Colour of Magic.
Rincewind, who has again met Twoflower, realizes that Great A'Tuin, the giant turtle that carries the Discworld, has set a new course that leads it directly into a red star with eight moons. Rincewind and Twoflower are accompanied by Cohen the Barbarian, a toothless, aging hero, and Bethan, a sacrificial virgin saved by Cohen, with assistance from Rincewind and Twoflower. As the star comes nearer and the magic on the Discworld lessens. Rincewind has to handle the magic book Octavo and read the eight spells contained therein to save Discworld.
External links
This article is a stub. You can help the Literawiki by expanding it.
Ad blocker interference detected!
Wikia is a free-to-use site that makes money from advertising. We have a modified experience for viewers using ad blockers

Wikia is not accessible if you've made further modifications. Remove the custom ad blocker rule(s) and the page will load as expected.