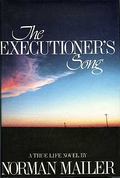 The Executioner's Song is a non-fiction book by Norman Mailer which was first published in 1979. Mailer won one of his two Pulitzer Prizes for The Executioner's Song in 1980.
The book is about the events leading up to murders by Gary Gilmore and then his execution.
References
This article is a stub. You can help the Literawiki by expanding it.
Ad blocker interference detected!
Wikia is a free-to-use site that makes money from advertising. We have a modified experience for viewers using ad blockers

Wikia is not accessible if you've made further modifications. Remove the custom ad blocker rule(s) and the page will load as expected.