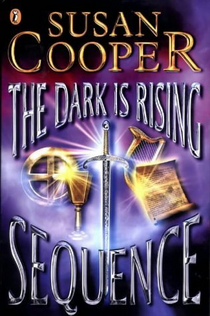 The Dark is Rising series by Susan Cooper includes
In the series, the main characters help the Light (good forces) battle the Dark (evil forces). Primarily they do this by solving various riddles or figuring out where magical objects are and overcoming obstacles to retrieve them.. These magical objects, a grail, a golden harp and a crystal sword, are hidden in different places in Cornwall and Wales. Most of the obstacles are emotional or mental: facing their fears, not giving into temptations.
Recommendations
This series weaves in the battle between good and evil, Arthurian legend and other elements of fantasy and of real life children and youth issues.
If you like this series, check out the books of Madeleine L'Engle or J.K. Rowling.
Some of the recurring characters
Simon, Jane and Barney Drew
Will Stanton
Merriman Lyon or "Great-Uncle Merry"
Bran Davies
External links
Ad blocker interference detected!
Wikia is a free-to-use site that makes money from advertising. We have a modified experience for viewers using ad blockers

Wikia is not accessible if you've made further modifications. Remove the custom ad blocker rule(s) and the page will load as expected.