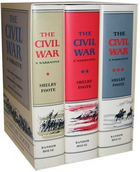 The Civil War is a three-volume history by Shelley Foote detailing the events of the 1862 to 1864 American Civil War. The first volume was published in 1958, the second in 1963 and the third in 1974.
Review
This is a long read, three very large volumes about the Civil War. The books gives a great insight in the hardships the soldiers endured during the Civil War and has tremendous details of the various battles. Interesting insight into Lincoln's trial to find a successful General to lead the army.
Ad blocker interference detected!
Wikia is a free-to-use site that makes money from advertising. We have a modified experience for viewers using ad blockers

Wikia is not accessible if you've made further modifications. Remove the custom ad blocker rule(s) and the page will load as expected.