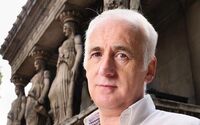 Terry Deary (born March 4, 1946) is a prolific British author who has written more than two hundred fiction and non-fiction books for children. He is best known as the creator of the highly successful Horrible Histories series of books which have been adapted for television and the stage.
Deary, the son of a butcher, was born in Sunderland, northern England. A former professional actor, theater director and drama teacher, he began writing at the age of 29.
In spite of being famous for writing a series of history books, Deary does not consider himself to be a historian. He considers historians to be dishonest writers who "pick on a particular angle and select the facts to prove their case".
Deary has often expressed outspoken criticism of British schools, which he believes only prepare children to pass exams and do not teach them any of the skills that they need for every day life. Deary refuses to answer any emails that are sent to him from schools and laments the fact that some titles in his Horrible Histories series are now used in school history lessons, fearing that children will be discouraged from reading them.
According to his website, Deary has now stopped writing children's fiction and plans to write novels for adults in the future.
External links
Ad blocker interference detected!
Wikia is a free-to-use site that makes money from advertising. We have a modified experience for viewers using ad blockers

Wikia is not accessible if you've made further modifications. Remove the custom ad blocker rule(s) and the page will load as expected.