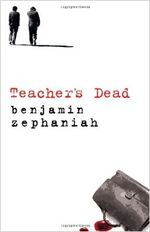 Teachers Dead (ISBN 9781408520284, ISBN 9781408825419) is a crime novel by Benjamin Zephaniah, aimed at teens, that was first published in 2007.
Plot
Jackson Jones witnesses the murder of Mr. Joseph, a teacher at his school. Mr. Joseph was killed by two misfits at the school, Lionel and Ramzi. Jones is determined to get to the bottom of the matter, he recruits the help of Mrs. Joseph, widow of Mr. Joseph.
However, Terry, the school bully, starts on Jackson as soon as he realises he is investigating. After talking to many people involved it becomes clear to Jackson that Mr. Joseph was killed almost accidentally; Lionel and Ramzi were being bullied by Terry, but when Terry pulled a knife on them they retaliated, overpowering Terry and taking the knife. Terry proceeded to tell Mr. Joseph that the two had brought a weapon to school, when the teacher tapped Lionel on the shoulder he was mistaken for Terry, and Lionel stabbed him, even after realising this the boy was unconcerned, as their lives were so terrible at the time.
The end of the book sees Lionel, Terry and Ramzi in prison. Jackson had also developed a close friendship with Mrs. Joseph and Lionel's mother.
Ad blocker interference detected!
Wikia is a free-to-use site that makes money from advertising. We have a modified experience for viewers using ad blockers

Wikia is not accessible if you've made further modifications. Remove the custom ad blocker rule(s) and the page will load as expected.