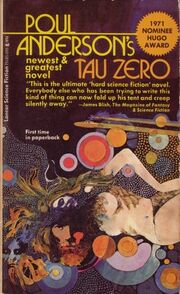 Tau Zero is a science fiction novel by Poul Anderson. The novel was based upon the short story "To Outlive Eternity" appearing in Galaxy Science Fiction in 1967. It was first published in book form in 1970. The storyline is based on the crew of the starship Leonora Christine, a colonization vessel crewed by 25 men and 25 women.
Characters
This article is a stub. You can help the Literawiki by expanding it.
Ad blocker interference detected!
Wikia is a free-to-use site that makes money from advertising. We have a modified experience for viewers using ad blockers

Wikia is not accessible if you've made further modifications. Remove the custom ad blocker rule(s) and the page will load as expected.