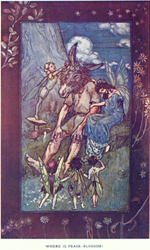 Tales from Shakespeare is a classic children's book by the British brother-and sister writers Charles and Mary Lamb. First published in 1807, the book quickly became an influential text. It has been republished many times with different illustrations by various artists.
The Lambs wrote Tales from Shakespeare to introduce "young people not accustomed to the dramatic form of writing" to the famous plays by William Shakespeare. Selecting twenty popular comedies and tragedies which they considered appropriate for children, they simplified the plots and retold them in narrative form. They omitted any parts deemed inappropriate for young readers but preserved Shakespeare's original wording whenever possible.
Modern readers may find the Lambs' retellings somewhat old-fashioned and didactic. Tales from Shakespeare, however, remains an excellent introduction to Shakespeare.
Stories
The following tales are included in the collection.
The Winter's Tale
As You Like It
The Two Gentlemen of Verona
The Merchant of Venice
Cymbeline
All's Well That Ends Well
The Taming of the Shrew
The Comedy of Errors
Measure for Measure
Timon of Athens
Pericles, Prince of Tyre
See also
External links
Ad blocker interference detected!
Wikia is a free-to-use site that makes money from advertising. We have a modified experience for viewers using ad blockers

Wikia is not accessible if you've made further modifications. Remove the custom ad blocker rule(s) and the page will load as expected.