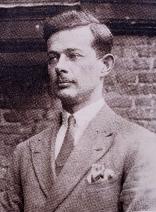 Not to be confused with Theodore Harold White.
Terence Hanbury White, better known as T.H. White, (May 29, 1906 - January 17, 1954) was an author who is best known for writing The Once and Future King. He was born in India and died in Greece, but he lived most of his life in England, and he held British nationality. While best known for his fantasy writings, he also wrote other kinds of books -- both fiction and non-fiction.
The Once and Future King pulled together several books he had written earlier: The Sword in the Stone, The Queen of Air and Darkness, The Ill-Made Knight, and the previously unpublished The Candle in the Wind. It was based on Sir Thomas Malory's fifteenth century book of Arthurian legend, Le Morte d'Arthur.
Several other authors, including Michael Moorcock, J. K. Rowling, Neil Gaiman, Gregory Maguire and Ed McBain, have credited Mr. White as being influential on their work.
Books
Loved Helen and Other Poems (1929)
The Green Bay Tree (1929)
Dead Mr Nixon (1931)
Darkness At Pemberley (1932)
They Winter Abroad (1932) (as James Aston)
First Lesson (1932) (as James Aston)
Farewell Victoria (1933)
Earth Stopped (1934)
Gone to Ground (1935)
England Have My Bones (1936)
Burke's Steerage (1938)
The Sword in the Stone (1938)
The Witch in the Wood (1939) later renamed, The Queen of Air and Darkness
The Ill-Made Knight (1940)
The Candle in the Wind
Mistress Masham's Repose (1946)
The Elephant and the Kangaroo (1947)
The Age of Scandal (1950)
The Goshawk (1951)
The Scandalmonger (1952)
The Book of Beasts (1954)
The Master (1957)
The Once and Future King (1958)
The Godstone and the Blackymor (1959)
Posthumous
America At Last (1965)
The Book of Merlyn (1977)
A Joy Proposed (1980)
Letters to a Friend (1984)
External links