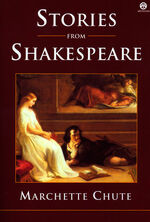 Stories from Shakespeare is a book by the American writer Marchette Chute. It was first published in 1956.
The book contains plot synopses of all thirty-six plays by William Shakespeare included in the First Folio. Chute wrote Stories from Shakespeare to make Shakespeare's plays more accessible to modern readers. By providing them with a "preliminary idea" of each play, she hoped to help readers who find Shakespeare difficult – because of the old words or the dramatic form of writing – to overcome their fears so they can begin to enjoy his works.
Stories from Shakespeare is one of the standard introductory texts and an excellent resource for the modern Shakespeare reader. It is appropriate for older children as well as adults.
Stories
All 36 First Folio plays are included in the collection.
Comedies
The Comedy of Errors
Love's Labour's Lost
The Taming of the Shrew
The Two Gentlemen of Verona
The Merchant of Venice
The Merry Wives of Windsor
As You Like It
All's Well That Ends Well
Measure for Measure
The Winter's Tale
Tragedies
Titus Andronicus
Troilus and Cressida
Timon of Athens
Antony and Cleopatra
Cymbeline
Histories
King John
Richard II
Henry IV, Part One
Henry IV, Part Two
Henry V
Henry VI, Part One
Henry VI, Part Two
Henry VI, Part Three
Richard III
Henry VIII
See also