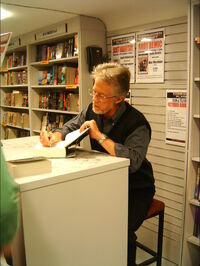 Stephen Reeder Donaldson (born May 13, 1947) is an American author. He is usually referred to as Stephen R. Donaldson in the United States and as Stephen Donaldson in the United Kingdom.
Donaldson's most celebrated series is The Chronicles of Thomas Covenant, the Unbeliever, which centers on a cynical leper, shunned by society, who is destined to become the heroic savior of The Land (a world similar to Earth). Covenant struggles against the tyrannical Lord Foul, who intends to break the physical universe in order to escape his bondage and wreak revenge upon his arch-enemy "The Creator".
Donaldson also authored The Gap Cycle, a science fiction epic set in a future where humans have pushed far out into space in the attempt to replace depleted resources.
Works
The First Chronicles:
Lord Foul's Bane (1977)
The Illearth War (1978)
The Power that Preserves (1979)
The Second Chronicles:
The Wounded Land (1980)
The One Tree (1982)
White Gold Wielder (1983)
The Last Chronicles:
The Runes of the Earth (2004)
Fatal Revenant (2007)
The Gap Series
The Gap into Conflict: The Real Story (1991)
The Gap into Vision: Forbidden Knowledge (1991)
The Gap into Power: A Dark and Hungry God Arises (1993)
The Gap into Madness: Chaos and Order (1994)
The Gap into Ruin: This Day All Gods Die (1996)
External links
Ad blocker interference detected!
Wikia is a free-to-use site that makes money from advertising. We have a modified experience for viewers using ad blockers

Wikia is not accessible if you've made further modifications. Remove the custom ad blocker rule(s) and the page will load as expected.