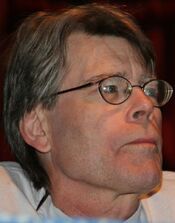 Stephen King (born September 21,1947) is an American author, screenwriter, musician, columnist, actor, film producer and director, most notable for his work on The Dark Tower Series as well as The Stand and The Shining. He has been called "The Master of Horror", because that genre is his specialty. He is a very prolific author and he says that he writes ten pages every day.
Recurring themes in his books are: psychology, psychopaths, mother-son relationship, the paranormal, death, monsters, writers and autobiography. He has written several stories in which the main character is a horror author, like himself.
Many of his novels have been made into movies including Carrie, Christine, The Shining, Riding the Bullet, It, The Green Mile, Secret Window and The Lawnmower Man.
Works
Novels
Dark Tower Series Novels
External links
Ad blocker interference detected!
Wikia is a free-to-use site that makes money from advertising. We have a modified experience for viewers using ad blockers

Wikia is not accessible if you've made further modifications. Remove the custom ad blocker rule(s) and the page will load as expected.