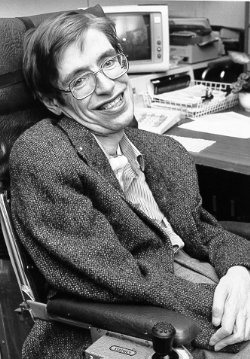 Stephen William Hawking (born January 8, 1942) is a well known British scientist. He was Lucasian Professor of Mathematics at the University of Cambridge for thirty years until he retired in October 2009. He is currently Director of Research at the Centre for Theoretical Cosmology in the Department of Mathematics and Theoretical Physics at the University of Cambridge.
Hawking's best known work is his popular science book A Brief History of Time. He has authored five other works of popular science for adults and co-authored two children's books with his daughter Lucy Hawking.
Personal life
Stephen Hawking was diagnosed with motor neurone disease when he was 21 years old. Doctors at the time told him that he had two or at most three years to live. More than forty years later, Hawking is still alive. However, he gradually lost the use of his arms and legs and the ability to speak. Hawking has been completely paralyzed since 2009.
Hawking uses a DECTalk DTC101 voice synthesizer, which produces an American accented voice, to speak. The model of voice synthesizer that Hawking uses is no longer made and is large and cumbersome. However, Hawking has said that he has come to identify with the voice that the machine produces and has never heard an artificial voice that he likes better. The voice synthesizer uses predictive text but, since Hawking is only able to move his cheek, operating it is a slow and laborious process. During a conference in May 2008, Hawking took seven minutes to respond to a question. Hawking's public speeches are always prepared in advance, consequently he seems to speak fluently through the machine in his media appearances.
Hawking has been married twice and has three children.
Bibliography
Popular science works for adults
A Brief History of Time (1988)
Black Holes and Baby Universes and Other Essays (1993)
The Universe in a Nutshell (2001)
On the Shoulders of Giants - The Great Works of Physics and Astronomy (2002)
A Briefer History of Time (2005), co-authored with Leonard Mlodinow
The Grand Design (2010), co-authored with Leonard Mlodinow
Children's fiction
George's Secret Key to the Universe (2007), co-authored with Lucy Hawking
George's Cosmic Treasure Hunt (2009), co-authored with Lucy Hawking
External links
Ad blocker interference detected!
Wikia is a free-to-use site that makes money from advertising. We have a modified experience for viewers using ad blockers

Wikia is not accessible if you've made further modifications. Remove the custom ad blocker rule(s) and the page will load as expected.