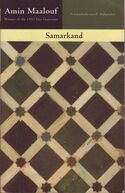 Samarkand is a novel by Amin Maalouf which was published in 1988. It is set in 11th century Persia and was originally written in French. An English translation (ISBN 978-0-349-10616-8) was written by Russell Harris.
The story involves the Persian poet Omar Khayyam's manuscript of the "Rubaiyaat." The story follows the trail of the manuscript throughout Persia and onto the maiden voyage of the Titanic, where it comes to rest.
Ad blocker interference detected!
Wikia is a free-to-use site that makes money from advertising. We have a modified experience for viewers using ad blockers

Wikia is not accessible if you've made further modifications. Remove the custom ad blocker rule(s) and the page will load as expected.