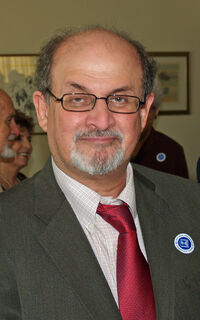 Sir Ahmed Salman Rushdie (born June 19, 1947) is an Indian-British fiction author and essayist. His second novel, Midnight's Children (1981), won the Booker Prize. His fourth novel, The Satanic Verses (1988), led to protests from Muslims in several countries. Rushdie received death threats and a fatwā (religious edict) issued by Ayatollah Ruhollah Khomeini which denounced his novel and called for his death. Rushdie was awarded a knighthood for services to literature in the Queen's Birthday Honours on June 16, 2007. In 2006, Rushdie joined the Emory University faculty as Distinguished Writer in Residence for one month a year for the next five years. Though he enjoys writing, Salman Rushdie stated that he would have become an actor if his writing career had not been successful. Possibly this explains the frequent movie/acting themes in his novels.
Works
Ad blocker interference detected!
Wikia is a free-to-use site that makes money from advertising. We have a modified experience for viewers using ad blockers

Wikia is not accessible if you've made further modifications. Remove the custom ad blocker rule(s) and the page will load as expected.