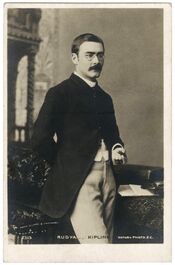 The British author Rudyard Kipling is probably best known for The Jungle Book. He was born in India in 1865. Rudyard Kipling won the Nobel Prize in 1907. He died in England in 1936. During his life, he traveled extensively and lived many places. Mr. Kipling wrote short stories of different types, including science fiction, children's stories.
Works
Science fiction short stories
Short stories
External links
This article is a stub. You can help the Literawiki by expanding it.
Ad blocker interference detected!
Wikia is a free-to-use site that makes money from advertising. We have a modified experience for viewers using ad blockers

Wikia is not accessible if you've made further modifications. Remove the custom ad blocker rule(s) and the page will load as expected.