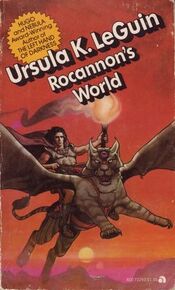 Rocannon's World is a science fiction novel by Ursula K. LeGuin. It is LeGuin's s first novel. It was first published in 1966. It is one of Le Guin's many works set in the universe of the technological Hainish Cycle. The character Rocannon, an ethnologist, encounters lords dwelling in castles and wielding swords, and other races similar to fairies and gnomes, in his travels on a backward planet.
The storyline continues in Planet of Exile (1966).
Characters
Rocannon
Mogien of Hallan

This article is a stub. You can help the Literawiki by expanding it.