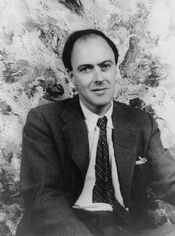 Roald Dahl (September 13, 1916 - November 23, 1990) was an author born in Britain to two Norwegian parents. His works include novels and short stories for adults, poetry, two volumes of autobiography and the screenplay for the James Bond movie You Only Live Twice. He is best known for his children's books, which include Charlie and the Chocolate Factory, The Twits, The BFG and The Enormous Crocodile.
See also
External links
This article is a stub. You can help the Literawiki by expanding it.
Ad blocker interference detected!
Wikia is a free-to-use site that makes money from advertising. We have a modified experience for viewers using ad blockers

Wikia is not accessible if you've made further modifications. Remove the custom ad blocker rule(s) and the page will load as expected.