Welcome to the Wikia Book Club -- an on-going collaborative reading experience created especially for you, and other literarily inclined members of the Wikia community. Reading is a pleasure, and we hope you'll enjoy reading along and sharing with us here on the Literature Wiki, in the Book Club chat, and in real time on Twitter -- just use the #WikiaBookClub and #amreading hashtags.
Your book club tweet might look something like this:
"#amreading The Host with the #WikiaBookClub, keep up with what's going on @WikiReads"
So, let's share our love of reading, and have some fun. We'll be bringing you regular features like quizzes, polls, and Top 10 lists that you can participate in. And we'll have some surprises, too.
Want in? Just sign up below to join. We'll use your email address to contact you with Book Club information (the next book we'll be reading, contests, events, etc.) only. 

Which book-to-film adaptation are you most excited for in 2013?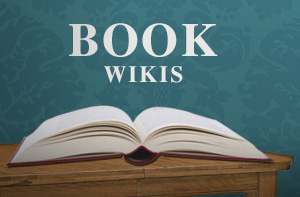 Ad blocker interference detected!
Wikia is a free-to-use site that makes money from advertising. We have a modified experience for viewers using ad blockers

Wikia is not accessible if you've made further modifications. Remove the custom ad blocker rule(s) and the page will load as expected.