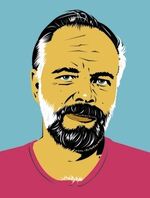 Philip Kindred Dick (December 16, 1928 – March 2, 1982), better known as Philip K. Dick, was an American science fiction author.
Some of his works are
Mr. Dick and Ursula K. Le Guin were high school classmates, although the two did not know each other at the time (according to Wikipedia).
Ad blocker interference detected!
Wikia is a free-to-use site that makes money from advertising. We have a modified experience for viewers using ad blockers

Wikia is not accessible if you've made further modifications. Remove the custom ad blocker rule(s) and the page will load as expected.