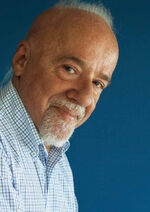 Paulo Coelho (born August 24, 1947) is a Brazilian lyricist and novelist.
Works
Hell Archives
The Pilgrimage(1987)
The Alchemist (1988)
Brida
The Gift (1991)
The Valkyries
The Fifth Mountain
The Devil and Miss Prym
The Zahir (2005)
External links
This article is a stub. You can help the Literawiki by expanding it.
Ad blocker interference detected!
Wikia is a free-to-use site that makes money from advertising. We have a modified experience for viewers using ad blockers

Wikia is not accessible if you've made further modifications. Remove the custom ad blocker rule(s) and the page will load as expected.