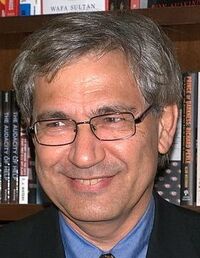 Nobel Prize winner Orhan Pamuk (born June 7, 1952 in Istanbul) is a Turkish author and a professor of comparative literature. He was the first Turkish person to receive the Nobel Prize (2006).
Works
Novels
Cevdet Bey and his Sons (1982)
The Silent House (1983)
The White Caste (1985)
The Black Book (1990)
The New Life (1995)
My Name is Red (1998)
Snow (2002)
The Museum of Innocence (2008)
A Strangeness in Mind (2014)
The Red-Haired Woman (20160
Non-fiction
Other Colors: Essays and a Story (1999)
Istanbul: Memories and the City (2003)
My Father's Suitcase (2007)
Manzaradan Parçalar (2010)
The native and the Sentimental Novelist (2011)
The Innocence of Objects (2012)
Screenplays
External links
This article is a stub. You can help the Literawiki by expanding it.
Ad blocker interference detected!
Wikia is a free-to-use site that makes money from advertising. We have a modified experience for viewers using ad blockers

Wikia is not accessible if you've made further modifications. Remove the custom ad blocker rule(s) and the page will load as expected.