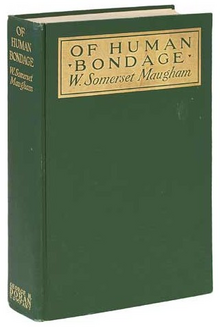 Of Human Bondage is a 1915 novel by W. Somerset Maugham. It is generally agreed to be his masterpiece and to be strongly autobiographical in nature.
Plot
Philip Carey, a handicapped orphan, is raised by a self-indulgent Victorian clergyman. Shedding his religious faith as a young man, he studies art in Paris, finally returning to London to qualify as a doctor.
In Paris, Philip attends art classes, makes a few friends among fellow art students and meets Miss Price, a poor talentless art student who does not get along well with people. Miss Price falls in love with Philip, but he does not return her feelings. After her funds run out, she commits suicide, leaving Philip to tend to her affairs.
Philip struggles at medical school and comes across Mildred, a tawdry waitress at a local cafe. He falls desperately in love with her, although she does not show any emotion for him. Mildred tells Philip she is getting married, leaving him heartbroken. Later, Mildred returns, pregnant, and confesses that the man for whom she had abandoned Philip had never married her.
External links
Ad blocker interference detected!
Wikia is a free-to-use site that makes money from advertising. We have a modified experience for viewers using ad blockers

Wikia is not accessible if you've made further modifications. Remove the custom ad blocker rule(s) and the page will load as expected.