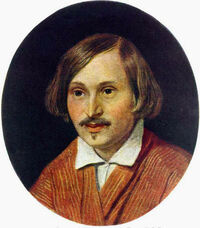 Nikolai Vasilievich Gogol (1809 - 1852) was a Ukranian born author and poet who wrote in Russian. He is considered to be one of the great masters of Russian literature, and had an important influence on later writers such as Fyodor Dostoyevsky. His most well known works are the short stories "The Overcoat" and "The Nose".
External links
This article is a stub. You can help the Literawiki by expanding it.
Ad blocker interference detected!
Wikia is a free-to-use site that makes money from advertising. We have a modified experience for viewers using ad blockers

Wikia is not accessible if you've made further modifications. Remove the custom ad blocker rule(s) and the page will load as expected.