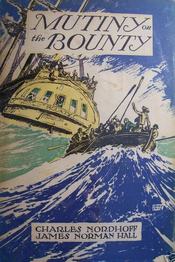 The Mutiny on Board HMS Bounty is a non-fiction account written by William Bligh. It was edited by Deborah Kestel for the special release by Great Illustrated Classics. Illustrations for the book were done by Brendan Lynch.
Overview
"Betrayal at Sea!, Captain William Bligh recorded the most famous mutiny in sea history when a group of his men, led by Fletcher Christian, forced him from his ship onto a small launch and cast him adrift into the sea. Was Bligh a harsh sea caption whose vicious cruelty forced his men to mutiny? Or was Fletcher Christian greedy for power and unjustified in taking command? Sail with Captain Bligh, on the Bounty and then follow his incredible quest for survival when cast adrift. It's a timeless tale of man's heroic struggle to survive against all odds! - Great Illustrated Classics"
Chapters
Chapter 1. - The Call of the Sea
Chapter 2. - The Bounty
Chapter 3. - The Fateful Voyage Begins: We Reach Otaheite
Chapter 4. - We Meet the Islanders
Chapter 5. - Signs of Trouble: Three Men Desert
Chapter 6. - Mutiny on the Ship
Chapter 7. - Attack on the Beach
Chapter 8. - We Survive to See New Holland
Chapter 9. - We become Skin and Bones
Chapter 10. - Home to England
Background
This story takes place at a time when military ships could be out of touch with their hierarchy for weeks or even months at a time.
Quote


A ship at sea is its own world. To be the captain of a ship is to be the unquestioned ruler of that world and requires all of the leadership skills of a prince or minister.
-- Col. Corazon Santiago, "Leadership and the Sea"