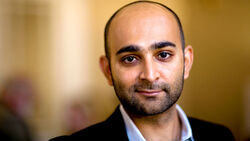 Mohsin Hamid (born 1971) is a Pakistani British author. He graduated from Princeton University summa cum laude in 1993, having studied under such writers as Joyce Carol Oates and Toni Morrison. He then attended Harvard Law School, graduating in 1997. His novel The Reluctant Fundamentalist was shortlisted for the Booker Prize in 2007.
Works
External links
Ad blocker interference detected!
Wikia is a free-to-use site that makes money from advertising. We have a modified experience for viewers using ad blockers

Wikia is not accessible if you've made further modifications. Remove the custom ad blocker rule(s) and the page will load as expected.