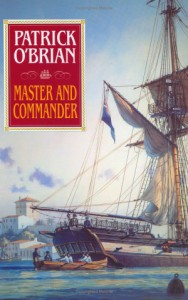 Master and Commander is the first volume of Patrick O'Brian's 20¼ volume historical fiction magnum opus, the Aubrey-Maturin series. It was first published in 1970. Set in 1800 and 1801[Note 1], it describes the meeting, initial clash, and ultimate friendship of Jack Aubrey, an officer in Britain's Royal Navy, and Stephen Maturin, a physician. Hints in this novel suggest that Maturin, though gifted as a physician, also assists the English war effort in more-direct ways, though O'Brian is not explicit on this point until Post Captain, the second novel in the series.
O'Brian's historical fiction is well-known for his meticulus research, and Master and Commander is no exception, being in large part drawn from Thomas Cochrane's actual adventures on board HMS Speedy.[Note 2]. Cochrane's adventures on their own make good reading (and appear as a chapter in King and Hattendorf's Every Man Will Do His Duty), but in Master and Commander they are embroidered with close examination of friendship, rivalry, and human character, set in a finely textured background of Nelson's Navy. Jack Aubrey's character: open, good-humored, not overly wise, but a skilled naval tactician and ultimately a gifted leader leader; and Stephen Maturin's character: reserved, at times depressed, highly intelligent (though at times imprenetrably stupid on points of seamanship), and skilled as a physician and negotiator; are established in this novel, to be played out over the next 6,000 pages of the series.
Recommendations for further reading
Books to consider recommending to people who liked this one:
Notes
↑

On page 13 (Norton edition), Jack Aubrey receives a letter dated 1st April, 1800. Immediately before the end of the novel (Norton edition pp. 382 - 403), Jack and Stephen Maturin witness the Battles of Algeciras; these actions occurred in June 1801.

↑ O'Brian slyly alludes to this during an exchange in the text in which he reveals that the Sophie, Jack Aubrey's brig, had previously been the Spanish Vencejo. Vencejo is Spanish for swift, and though it does refer to the bird, the English dual use of swift for the bird and speedy makes the reference complete.
External links
Ad blocker interference detected!
Wikia is a free-to-use site that makes money from advertising. We have a modified experience for viewers using ad blockers

Wikia is not accessible if you've made further modifications. Remove the custom ad blocker rule(s) and the page will load as expected.