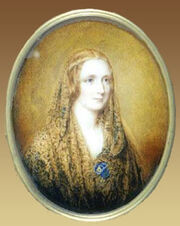 Mary Wollstonecraft Shelley, born Mary Wollstonecraft Godwin (August 30, 1797 - February 1, 1851) was an English writer who is probably best known for writing the gothic novel Frankenstein. She also wrote The Last Man, an apocalyptic science fiction novel.
External links
This article is a stub. You can help the Literawiki by expanding it.
Ad blocker interference detected!
Wikia is a free-to-use site that makes money from advertising. We have a modified experience for viewers using ad blockers

Wikia is not accessible if you've made further modifications. Remove the custom ad blocker rule(s) and the page will load as expected.