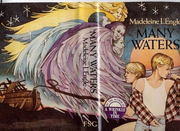 Many Waters (ISBN 0-440-95252-2) is a 1986 novel by Madeleine L'Engle. The members of the Murry family are traveling through time again. This time it is the twins, Sandy and Dennys, having an adventure.
The book by Madeleine L'Engle is another story interweaving time travel, moral obligations, fantasy, and in this case, a biblical tale, to create a story that is fun for the whole family.
Ad blocker interference detected!
Wikia is a free-to-use site that makes money from advertising. We have a modified experience for viewers using ad blockers

Wikia is not accessible if you've made further modifications. Remove the custom ad blocker rule(s) and the page will load as expected.