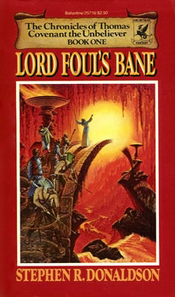 Lord Foul's Bane is a fantasy novel first published in 1977. It is the first book of the first trilogy of The Chronicles of Thomas Covenant, the Unbeliever fantasy series written by Stephen Donaldson.
Thomas Covenant, a leper whose wife has left him, struggles to survive daily existence on the outskirts of a town that shuns him because of his illness. Forcing himself to engage in human contact, he suffers an accident in the town while trying to pay a bill. He ends up in a strange world referred to by its inhabitants as The Land. He experiences what he feels is magic in various ways; he discovers hurtloam a type of mud that heals him. The Land's inhabitants see in him their hero of lore, Berek Halfhand and begin to have expectations that he will help them defeat Lord Foul the Despiser who threatens wellness of The Land. Thomas embarks on a journey to see the Lords who marshal their forces to strike a blow against the evil that Lord Foul wrought.
Dedication
for Dr. James R. Donaldson, M.D.
Characters
Thomas Covenant
Lena
Atiaran
Saltheart Foamfollower
Lord Mhoram
Lord Prothall