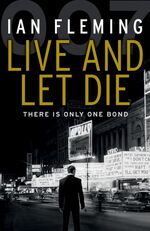 Live and Let Die, is the second novel in the James Bond series by the British author Ian Fleming. Its predecessor was the prominent Casino Royale. Live and Let Die was published on April 5, 1954 by the Jonathan Cape Co.
It is set in three main locations: London, England; Harlem, New York, USA and Jamaica.
The novel did astonishingly well with sales in the United Kingdom just like the previous Bond novel, but in the US, sales again were much slower. It was succeeded by Moonraker, published the following year.
Plot
Bond is tasked with a mission to put a stop to a negro gangster known as Mr.Big. This mission includes compromising Mr. Big's illegal criminal operations and drug trade in the US and Jamaica. Like the last Bond villain, Le Chiffre, Mr. Big worked for the organization SMERSH. He served for the American Military during World War II. His interests in voodoo jumpstarted the control of his vast criminal empire known for its illegal drug trade. During his mission Bond meets a fortune teller and Bond girl, Solitaire, an MI6 section chief in Jamaica, Mr.Strangways, and a Cayman Islander named Quarrel. Also, Bond reunites with CIA agent Felix Leiter. Bond infiltrates Mr.Big's operations with Felix Liter and makes sure that Solitare is not in Mr.Big's grip any longer.
Adaptaion
Live and Let Die was adapted into a movie in 1973, starring Roger Moore in his debut as James Bond. It was the eighth movie in the 007 Movie Franchise. The movie was a commercial success and it has mostly mixed to positive reviews.
External links