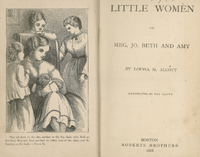 Louisa May Alcott wrote Little Women, a story set during the U.S. Civil War. It tells about four teenage sisters, Meg, Jo, Beth and Amy Brooks, in a household headed by their mother while their father is off at war.
This book has been made into a movie at least 10 times and was popular enough that Ms. Alcott wrote the follow-up books: Good Wives, Little Men and Jo's Boys. Geraldine Brooks' Pulitzer Prize winning novel March was based on Mr. March's experiences during the war.
Other literature referred to in this book includes The Pilgrim's Progress. And Little Women is mentioned in Jean Webster's Daddy Long Legs.
External links
Ad blocker interference detected!
Wikia is a free-to-use site that makes money from advertising. We have a modified experience for viewers using ad blockers

Wikia is not accessible if you've made further modifications. Remove the custom ad blocker rule(s) and the page will load as expected.