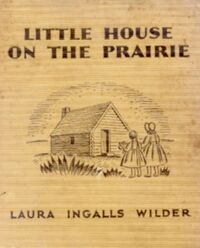 Little House on the Prairie by Laura Ingalls Wilder is part of the Little House series. The book is the second about her childhood. It follows Little House in the Big Woods. She also wrote Farmer Boy about her husband's childhood. On the Banks of Plum Creek is the next book in the series.
These books chronicle life on the U.S. "frontier" in mid-nineteenth century. In Little House on the Prairie, Laura's family move from their home in the Wisconsin woods to "Indian Territory"; homesteading at a location in what is now Kansas. The timeframe for this book is 1868-1870. The story covers the trip there in a covered wagon, building a home, digging a well, starting a farm.
Historical notes
Homesteading was intended to encourage people to move west. For a fairly low fee, a prospective farmer could purchase the rights to farm some land. If the farm was successful within a set period of time, the farmer gained full ownership. In this case after a series of disasters, including locusts, malaria. Although the book does not say it, the land the Ingalls settled on, was actually in territory that was on an Indian reservation. Laura Ingalls was really only 2 - 3 1/2 years old during this timeframe, but portrays herself as a couple of years later.
External links
Ad blocker interference detected!
Wikia is a free-to-use site that makes money from advertising. We have a modified experience for viewers using ad blockers

Wikia is not accessible if you've made further modifications. Remove the custom ad blocker rule(s) and the page will load as expected.